Sandeep Gyawali has big dreams for our bread. By combining quality techniques and training with unique, locally sourced artisanal ingredients he believes he's bringing the best bread we've ever made to our stores. Read on to learn how Sandeep is revolutionizing bread at Whole Foods Market. 
"Historically Whole Foods Market has always been about ingredients, about quality standards, about nurturing relationships…"
Sandeep Gyawali, Senior Culinary Development Program Manager, Bread and Bakery
Producer profile – Barton Springs Mill
Some of Our Favorite Mills
Farmer Ground Flour:
Farmer Ground Flour specializes in the stone milling of New York grown organic grains. They supply many bakeries that are simply making great food. Their flours are fresh and have higher whole grain content – when used in a natural sourdough baking process, this combines to make healthy amazing food. They support farmers who are committed to soil health.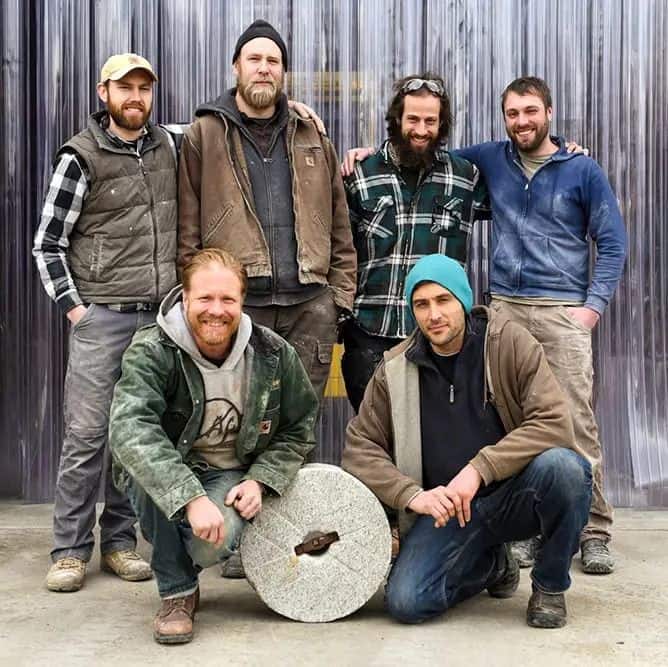 Maine Grains:
Maine Grains (est. September 2012) is a gristmill specializing in freshly milled, organic and heritage grains for bakers, brewers, and chefs throughout the Northeast. Their milling operation is housed in a four-story Victorian jailhouse in the heart of downtown Skowhegan, Maine. An alternative to roller milling, the traditional stone-milling process pulverizes the entire grain kernel, including the bran layer, producing a more nutritious final product with exceptional flavor. To date, Maine Grains has processed nearly nine and a half million pounds of grain, most of which was grown in the state of Maine.
Barton Springs Mill:
Back in 2016, when future miller James Brown went to find freshly milled wheats and grains, he discovered many great sources—now mentors—like Grist & Toll in California, and Hayden Flour Mills in Arizona. He also learned that the great state of Texas had not yet made room for organically grown landrace grains. James, however, needed some flour, and he wanted it from the area, and he just didn't think that was too much to ask. Since then, he's met farmers, collected seeds, learned about growing seasons and rain and drought and pests. He's come to understand the toll of humidity, cross-pollination, and broken fork lifts on a deeply personal level. Having just completed USDA Organic Certification, Barton Springs Mill is now in a new 19,000 square foot facility in Dripping Springs, alongside Abby Jane Bakeshop where you can taste baked goods made from their flours in a shady grove of heritage oak trees.
Landrace What Now?
Grains fall generally into three broad categories; ancient, landrace, and modern.
Ancient Grains are the oldest varieties of grains, those developed without any help or interference from mankind. They offer nutrition and flavor. Examples include Einkorn, Emmer, and Spelt.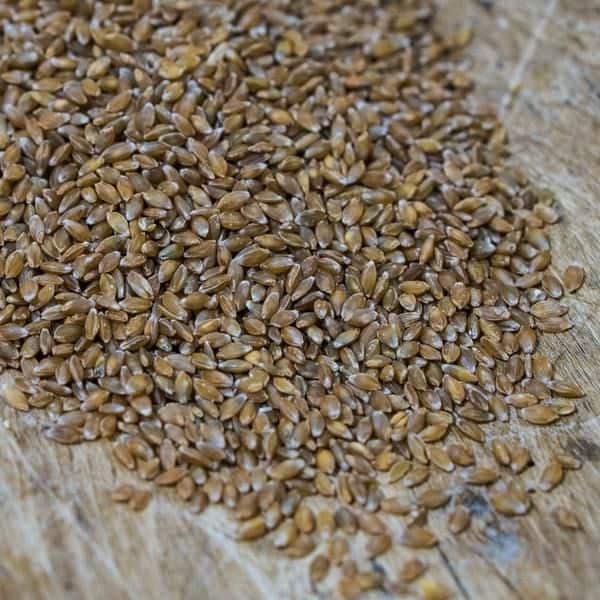 Landrace or Heritage Grains refer to open-pollinated varieties, crossed on some level by humans in the 19th and early 20th centuries. Some landrace grains include Turkey Red, Rouge de Bordeaux, Marquis, and Wrens Abruzzi Rye.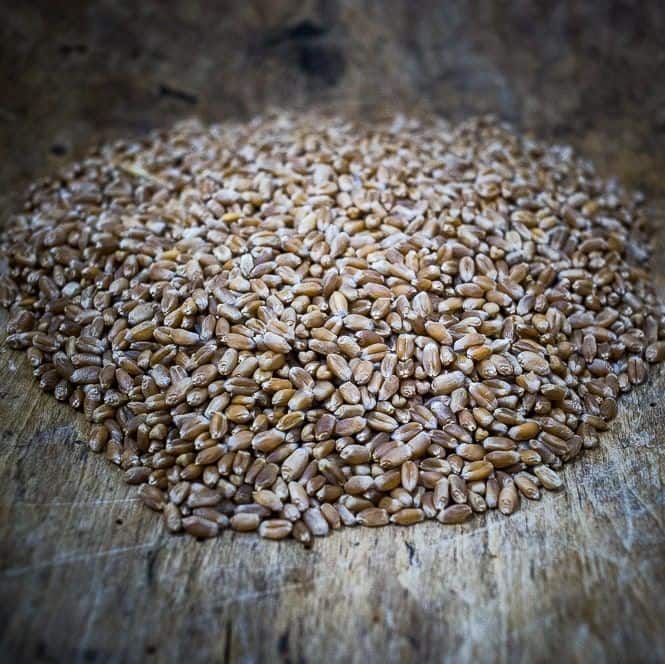 Modern Grains, developed in the mid 20th century through today, typically prioritize high yields and resistance to drought and disease above all else, often at the expense of flavor, nutrition, and baking performance. Happily, there are exceptions, including Barton Springs Mill's Yecora Rojo, TAM105, and Danko Rye, who all more than hold their own with the ancient and landrace grains in our offerings.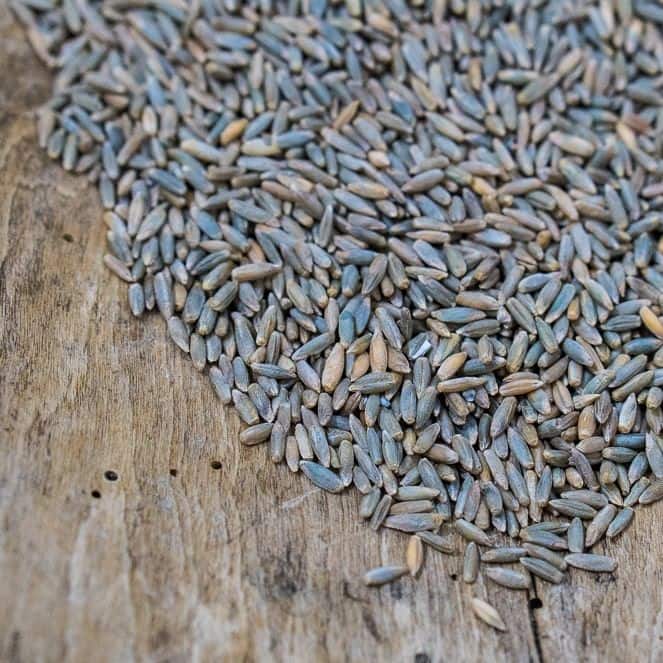 Sandeep's Favorite Bread Recipe
BORODINSKY [RYE + CORIANDER]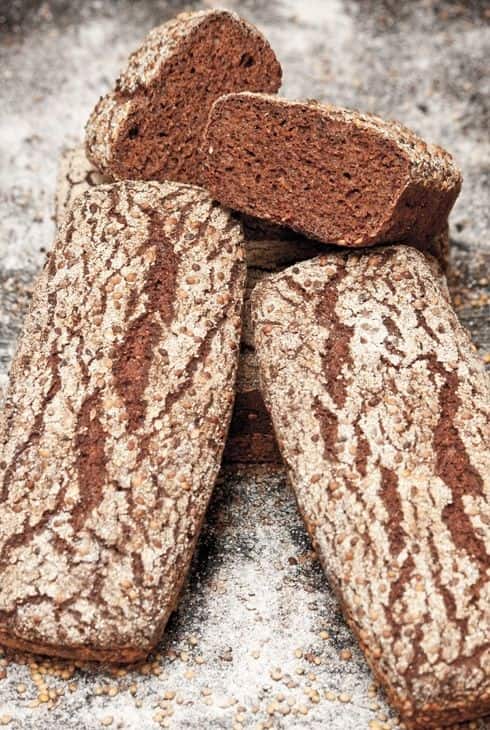 Borodinsky is a classic Russian rye bread, made with a rye "sour", molasses, malt and most notably, coriander seed. It is thought to be named for the town of Borodino, near Moscow, where Napoleon's army was defeated and subsequently retreated. It's the most popular bread in Moscow.
Most Borodisnky recipes use 20% wheat flour, but this version uses 100% whole grain rye flour. While gluten gives the structure to wheat breads, rye has low amounts of gluten. Instead, the bread is supported by pentosans, which is a type of structural starch capable of retaining the gas from fermentation. Pentosans are degraded by amylases (enzymes that break down starch and naturally exist in grains) – unless it is in an acidic environment. That's why for a 100% rye bread, it is essential to use a lot of "sour", otherwise, the loaf can collapse and become very gummy due to starch degradation. Since there is not much gluten to develop, we treat whole rye breads more like a thick batter than a dough. It's a real no-knead bread.
Rye flour is thirsty, so a rye dough requires high hydration. It also needs to be baked at a lower temperature for longer than wheat bread so that it's not too wet inside. Even then, you should wait a day before slicing into the loaf. It will still be moister than a wheat loaf, and large loaves will keep fresh for over a week.
NOTES
+ Any sourdough seed culture may be used to build the rye sour.
+ Freshly-ground rye flour is worth seeking out for this loaf. Or use a Dark Rye flour (dark = more whole grain) from a good brand like Bob's Red Mill.
+ Barley Malt Syrup can be found at health food stores (Eden's brand is common), but rye malt extract can be found at a home brewing supplier for cheaper.
+ I prefer Brer Rabbit Full Flavor Molasses.
+ Buy fresh whole coriander seeds and grind it yourself.
+ Commercial yeast can be added to shorten the proofing time, without noticeably changing the flavor. This is optional.
+ This dough can also be baked as a flatbread in the Scandinavian style, made to look like a flat bagel. Just bake for a shorter time until the edges become dark. The flatbread can be eaten right after it cools.
QUANTITIES
Figure out the capacity of the pan you will be using and make your dough to fill it to 75%. For instance, a medium loaf pan (marketed as a 1.5 lb loaf pan) has a capacity of 1400 grams water. We would need about 1050 grams of rye dough to fill it to 75%. Our mini loaf pans need 425 grams of dough.
INGREDIENTS
For ~1050 grams of dough:
Total Rye Flour: 533g
Total hydration: ~80%
Prefermented flour as sourdough: 37%
+ Make a ~200% hydration rye sour 10-12 hours before mixing the dough
+ Mix the dough 1-4 hours before baking
I. Make the RYE SOUR 10-12 hours before making the dough
This sourdough culture is thin and on the warm side.   
Sourdough culture (Any kind. Can be from fridge.)
Warm water (105°F)
Whole Rye Flour (or Dark Rye)
38g/3 Tbsp/7% 
413g/1.75 c/75% 
195g/1 c/35%  
+ Mix well in a 2 quart bowl. Cover.
+ Leave at room temperature [68-74°F] for 10-12 hours. Or you can put it into the fridge after 8 hours, for up to a day. If it's very hot, add 2g salt to the sour and subtract that amount from the final dough. Salt will noticeably slow down the progression of the sour.
+ The sour is ready to use when it tastes tart, but not bitter [which means it has overmatured and microorganisms have begun to die].
II. Make the FINAL DOUGH 1-4 hours before baking 
Rye Sour from step
Warm water (95°F, or 115°F if sour is cold)
Malt syrup (rye or barley)
Molasses
Ground coriander seed
Salt
Whole Rye Flour (or Dark Rye)
Instant or Active Yeast (optional)*
Additional crushed coriander seed for pan
646g
0-150g/0 – 2/3 c]/0-35%
45g/3 Tbsp/8%
30g/2.25 tsp/5.5%
12g/1.5 Tbsp/2%
11.25g/2.25 tsp fine2%
338g /1.75 c]/ 61% 
2g/3 tsp/0.35%
10g/2 Tbsp to taste
+ Using commercial yeast will reduce the proofing time to 1-2 hours. Using just sourdough will require 2-4 hours of proofing.
+ Mix all ingredients using the lower range for the water until well combined. Add more water until the desired consistency is reached. It should be like loose mashed potato (see photo on last page). When pulled up with a whisk, a chunk should fall off a bit reluctantly.
If using a loaf pan:
+ Prepare the pan by greasing the inside with butter or oil.
+ Coat the inside of the pan with crushed coriander seed.
+ Put dough into pan. It should come up to ¾ capacity. It's best to weigh the dough into the pan.
+ Wet hands & pushing down to the dough into the pan to rid of any gaps. Level out the top with wet fingers.
+ Sprinkle crushed coriander seeds on top.
+ Sprinkle a complete layer of rye flour on top.
+ Press gently to embed seeds into the dough.
If making flatbread:
+ Line a sheet pan with parchment or a silicone sheet.
+ Dust the pan with rye flour.
+ Wet your hands and scoop up an appropriate amount of dough and make into a rough ball.
+ Place the ball on the pan and flatten it to about ½ inch thick round.
+ Use a wet finger to make a hole in the center.
+ Use a wet chopstick to dot the surface with holes.
+ Sprinkle with coriander seed and rye flour, and press gently to embed
+ PREHEAT OVEN TO 450°F. Also preheat a stone or a sheet pan.
III. Proof for 1-4 hours
+ Let the dough rise in a warm spot [1-2 hours with commercial yeast; 2-4 hours without]
+ The dough is ready to be baked when it rises to the top of the pan and/or when well-defined cracks form throughout the surface.
IV. Bake
+ Place the loaf (or flatbread pan) on the preheated stone/sheet.
+ Bake for 15 minutes at 450°F.
+ Reduce to 425°F and bake for another 30-75 minutes depending on the size of the loaf. If making flatbread, check at 15 minutes.
+ The bread is done when it is gets rather dark on the edges and the flour coat on top takes on a bit of color.
V. Resist the urge to cut! 
+ All breads continue to cook as they cool. Cutting too soon will only result in a gummy piece of bread. Let the rye loaf cool to room temperature, then try to wait a full day before slicing it.
+ The flatbread may be eaten once it is completely cool.
+ Serve with good butter and salt as is traditionally done in Russia. Also pairs fantastically with smoked fish and cured meat.
VI. Storage
The loaf should keep well for a week or more. If it gets stale, toasting will revitalize it.
If it is beyond hope, slice it and toast it until dark in an oven. Then save the pieces to use as "old bread" in your next batch of Borodinsky – it will add even more complexity. Here's how:
+ Soak the toasted bread in hot water for several hours. It's convenient to do this when you build the sour. Use roughly twice the weight in water. Strain the excess water, saving it for use in the final dough. Mash up the soaked bread very well and use it in the dough. There's no need to make adjustments to the formula, just don't use too much old bread (keep it under 15%).
What's Next?