What is Endangered Cheese?
What defines an "endangered cheese"? These beloved artisan cheeses are facing extinction, threatened by decreasing biodiversity, the rise of globalization, and the growing popularity of industrial, mass-produced cheese. In fact, some of the world's most iconic cheeses, from raw farmstead Cheshire to Fulvi Pecorino Romano, are becoming endangered too.
In this issue, we celebrate some of the rare cheeses of the world and the makers who continue to craft them, despite growing challenges. Because when it comes to preserving small-scale cheeses, you can play a big role. Read on to discover how.
What Is Endangered Cheese?
"Endangered cheese" has a funny ring to it, but if a cheese becomes extinct, the generations of knowledge, art, and science behind its creation are at risk of being forgotten. The reasons for these disappearing varieties are many, and unfortunately, not easily solved.
Smaller scale cheese manufacturers are becoming increasingly rare. In 1979, there were 20,000 fromageries in France. Today there are 3,300. Raw cheeses that have been aged less than 60 days are prohibited for sale in the United States. That means there exists a huge variety of artisan cheeses that are left without a viable US market. Some rarer cheeses are manufactured and distributed in small batches, but that small scale keeps their financial viability a risk for producers.
The process by which some cheeses are created makes their survival more difficult. Longer-term aged cheeses require an investment on a larger scale. Many businesses can't justify the operating costs of waiting on a six-year cheddar, while younger cheeses are ready in a matter of weeks. Shrinking biodiversity is also a factor. As pastureland is lost to dairy farms, some grasses, herbs and fauna consumed by livestock – diets that contribute to the flavor of certain cheeses – may no longer be available.
Cheese production has also felt the effects of the COVID-19 pandemic. Many artisan producers relied on restaurants for up to 70% of their sales. In the beginning of the pandemic, most restaurants were closed or had limited service. Through two full years, recovery of this situation has been slow. Every level of cheese production has been impacted by the pandemic, and many producers have had to make changes in operations to keep staff safe and prevent contamination. Smaller, specialty producers are especially vulnerable. And some of these artisanal shops are the only remaining producers of certain cheeses.
Here are a few examples of endangered cheeses. The acronyms AOC, POD, and DOP are (respectively) the French, English and Italian/Spanish labels that identify a cheese as a product of a specific area. For example, a Roquefort, AOC-protected blue cheese is aged exclusively in the caves of Roquefort-sur-Soulzon in southern France.
Emmentaler AOP
Swiss original first produced in the canton of Bern. Production of this cheese dates back to 1292. Defining features are the eyes and sweet flavor. The cultures used in production creates pockets of carbon dioxide gas which forms the holes (eyes) in the cheese and gives it the distinctive sweet, hazelnut notes it is famous for.
Producers are often as few as two or three employees in the entire plant making cheese 365 days per year. It requires twelve liters of milk to make one kilogram of cheese. It has become so rare that only 6% of the cheesemaking milk supply in Switzerland is used to make Emmentaler.
In 1990 there were 800 producers in Switzerland. As of 2020 there are only 149 AOP producers remaining.
Among the challenges facing this ancient cheese is mass production of pasteurized, non-PDO (AOP) versions of the cheese. Those cheeses are made of milk from cows fed on silage which produces bacteria cultures that are not permitted in the Swiss AOP cheese. The AOP version must be unpasteurized and is always made from the milk of cows fed solely on grass and hay.
Farmstead, Raw Cheddar PDO
Endangered status: Two producers
Cheddar is a very common cheese, but these farmstead cheddars are made from raw milk. Records indicate cheddar has been produced in England since at least the 12th Century. But due to the dire state of the post-World War II English economy, most milk in England was used to make a single type of cheese dubbed "government Cheddar." Once there were more than 3,500 cheddar producers, but fewer than 100 remained after WWII, and now only two exist, both in Somerset, England.
Keen's Cheddar, made at Moorhayes Farm in Wincanton, is bright with a balanced acidity and a rich, creamy texture. Westcombe Cheddar, dating back to cheesemaker Edith Cannon in the 1890's, is cloth-bound in lard, and produces sweet notes of caramel with a sharp, tangy finish.
Fulvi Pecorino Romano, DOP
Endangered status: One producer
One of the last cheeses made with whole sheep's milk, giving it more butterfat content, which makes it moister and softer than Pecorino Romanos made in Sardinia. Aged 10 months to one year and coated in black wax per tradition, Fulvi is the last of these cheeses made in the Roman countryside.
These potential losses are one reason that Whole Foods Market treats cheese differently here in the US, modeling the cheese shops within our stores on classic shops found throughout Europe. We collaborate with organizations like the American Cheese Society and Slow Foods to further educate our cheesemongers so they can share that knowledge with customers and other team members. We work with Affineurs (cheese refiners) like Neal's Yard Dairy and MonS to seek out smaller producers, and cheeses at risk of extinction, and bring those products to a broader market. Since the start of the pandemic, we've reached out to producers to develop solutions and promotions to strengthen sales lost due to restaurant closures.
If you're interested in expanding your cheese knowledge or trying some rare varieties, seek out these smaller producers of cheese. Or, next time you're at a Whole Foods Market store, you can just ask one of our cheesemongers what they're excited to share. Helping protect these best-in-class cheeses keeps decades, and in some cases centuries, of tradition, technique and flavor alive for future generations.
Producer Profile: Sparkenhoe Red Leicester
Behind the Scenes: Kirkham's Lancashire
Endangered Cheese of the UK
Endangered Cheeses of the World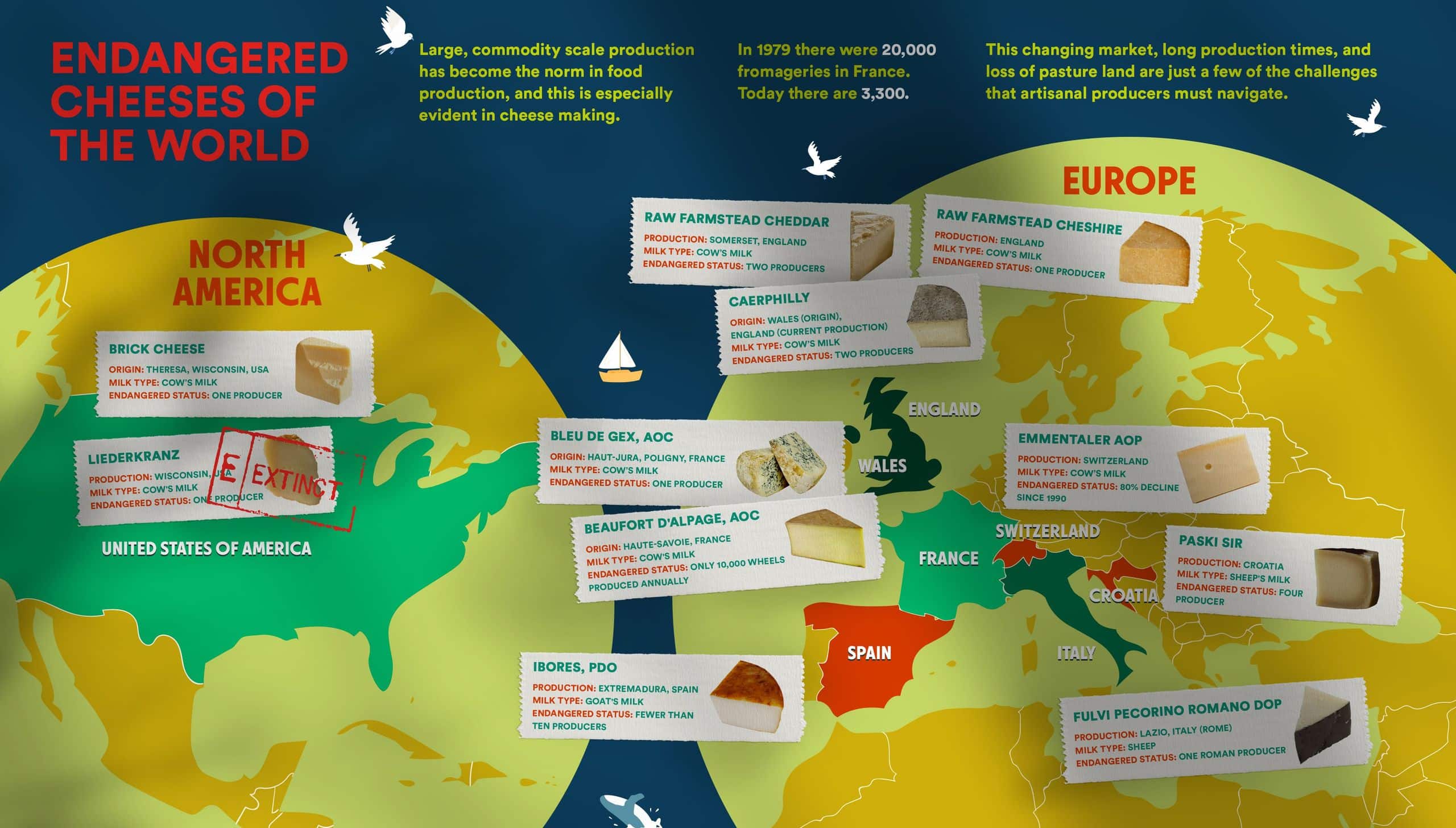 ---
What's Next?