In Pursuit of Higher Standards
From food ingredient standards to animal welfare, Whole Foods Market has always pushed the food industry forward. Setting high standards is meaningless, however, if it is impractical for producers to be able to meet them. That's why we work with industry leaders, scientific experts, and the best ranchers, farmers, and fishermen in the world to develop standards that work – for everyone. And we never stop pushing to make those standards higher and higher every day. This is where the rubber meets the road, folks – building a better food system, one standard at a time!
"If it's best for animal welfare, it's best for the welfare of the farm, it's best for the welfare of all of us."
Liz Fry, Animal Welfare Standards and Verification
What is the Global Animal Partnership?
As Whole Foods Market has grown, our ability to influence the larger food industry has grown as well. Support for better animal husbandry and product sourcing has always been at the core of our meat department, but applying that commitment and philosophy was difficult without set standards to support farmers and reward improvements in animal welfare.
In 2008, our CEO, John Mackey, challenged the company to create a system of standards that would drive the industry forward. That year Whole Foods Market created an independent nonprofit organization that would eventually come to be called the Global Animal Partnership(G.A.P.).
Today, G.A.P. is one of the largest animal welfare food labeling programs in North America. Over the years, it's helped shift the industry toward new production systems, impacting the welfare of more than 416 million farm animals annually through the certification of more than 3,800 farms supplying products to more than 5,000 outlets.
G.A.P. uses third-party certifiers to verify that their Animal Welfare Certified standards are being met. All certifiers must first complete G.A.P.'s Certifier Accreditation process. Then, auditors from the certification organization visit every farm every 15 months (through different seasons and different production cycles), spending time assessing animals, checking records and talking with the farm manager about their operation and management practices. A report is then submitted to the certifier, who determines whether they can be Animal Welfare Certified and at what level.
The G.A.P. organization consists of two teams: the business team and the farm team. The business team manages the relationship with brands and products using the G.A.P. Animal Welfare Certified label on their packages, as well as partnerships with retailers, restaurants and food-service companies.
G.A.P.'s farm team, made up of scientists with advanced degrees in farm animal behavior and welfare, developed and oversees tiered animal-welfare standards across six different certification levels for a variety of farm animal species. All products with their Animal Welfare Certified label are raised without the use of antibiotics, added hormones or animal by-products in feed. In Whole Foods Market meat departments, those three requirements are met for all meat we sell, and all fresh chicken, pork, beef, turkey and lamb must be Animal Welfare Certified.
In 2019, G.A.P. rolled out new, simplified standards and labels that define the six certification tiers across various species. This tiered system rewards farmers for their hard work, and provide customers with the data they need to make informed choices when they shop.
Base Certification (formerly Step 1)
Base certification is our minimum GAP animal welfare certification level. This means that all farms and ranches raising the animal have met 100+ animal welfare standards including more space to move around, and no cages or crates. This label also makes it easier for users who buy from multiple sources to demonstrate their support of the program through one label, without costly packaging changes or mislabeling.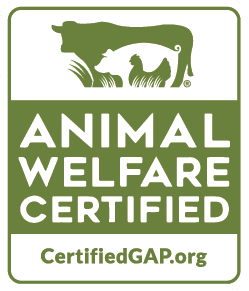 Enriched Environment
Animals were raised in environments that provide them with natural light, more space, and additional enrichments (such as straw bales) to encourage natural behaviors.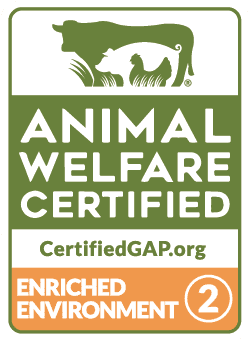 Outdoor Access
Animals have the choice of indoor or outdoor living (weather permitting for poultry) and also have additional enrichments indoors and out. At this level, farms and ranches ensure the animals are managed in both environments.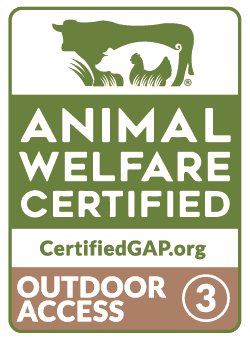 Pasture Raised
Animals are raised on pasture. In some climates where pastures need to be protected for use the next year, animals must still be given daily access to outdoor areas. Cattle, sheep, goats and bison are not permitted to be finished in feedlots. Farmers and ranchers raise animal varieties that are well suited for outdoor living, and carefully manage their environments.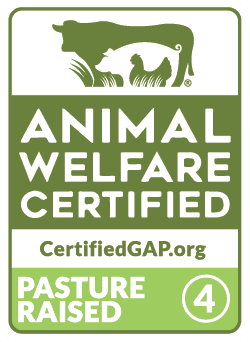 Animal Centered
Animals live on pasture year round, with protection from the environment (shelters, windbreak, etc.). Farmers and ranchers raise animals that are well suited for outdoor living and carefully manage their environments. No physical alterations are performed on any of the animals (e.g. castration, tail docking, etc.).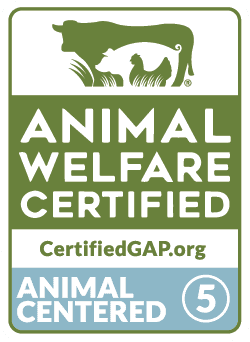 Entire Life on Farm
This is G.A.P.'s top tier of animal welfare certification. All of the requirements of the Animal Centered level are met (animals live on pasture year round, with protection, no physical alterations are performed, etc.), but animals are also processed on-farm, or through the use of a mobile slaughter facility, so their entire life is spent on the farm.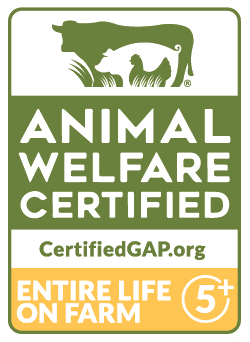 We Have Farmed Seafood Standards
Some of our Favorite Chickens
How Third Party Auditing Works

What's Next?