Teamwork Makes the Dream Work
If you're aiming for the highest quality, best tasting products on your shelves, then you're going to need to work with amazing, innovative suppliers. That's why we focus on building long-term, equitable relationships. It's not just about the bottom line; it's about building relationships that benefit all stakeholders – our suppliers, Team Members, customers, and local and global communities.
"I'm actively looking for suppliers and for brands that want to have a positive impact on the world, that want to work with us to develop a deep expertise in categories like supplements, that are thinking about the way our planet and our earth and our customers are evolving."
Alyssa Vescio, Senior Vice President Merchandising, Center Store, Whole Foods Market
Supplier Spotlight: Renewal Mill
Fighting waste with upcycled foods
All the foods on our 2021 Top 10 Food Trends list are good to eat, but the Upcycled Foods trend is one that everyone can feel really good about, too. Some great examples of this trend in action are the products from Renewal Mill, a local supplier in our Northern California Region.
The idea for Renewal Mill was sparked in an unexpected place: a juice shop in Boston. When Claire Schlemme opened Mother Juice in 2012, she never thought it would compel her to launch a completely different business. But after each day of juicing, the leftover pulp started her thinking.
"Very quickly, I started realizing that we were ending each day with a mountain of nutritious produce pulp," Schlemme said. "We tried to bake it into crackers or muffins, but there was just too much of it. That's when the lightbulb went off: Renewal Mill was born out of the idea that there had to be a better way to capture the nutrition being lost in our food system and bring it back to people's plates."
A few years later, Schlemme met Minh Tsai of Hodo Foods, an artisanal tofu company. He told her that for every pound of soymilk (the precursor to tofu) he made, he generated almost a pound of okara, soybean pulp that East Asian households often toss into stir-fries. Schlemme decided to start there, co-founding Renewal Mill in 2016 with Caroline Cotto.
"I immediately contacted a local tofu producer and got my hands on some okara," Schlemme said. "We spent a few weeks playing around with it, but we needed to solve one issue: okara comes out of the soymilk machine wet and can start spoiling within four hours. We knew that if we dehydrated it immediately, we'd be able to make it shelf stable and mill it into a gluten-free flour."
Together, Schlemme and Cotto developed a method for drying the okara, then milled it into a fine powder and were pleased with how it performed as a baking flour rich in protein and fiber and a neutral in color and taste. Today, Renewal Mill offers a variety of gluten-free and vegan flours and baking mixes that contain okara as well as additional upcycled ingredients.
"It turns out that this process can be applied to all sorts of byproducts from food manufacturing," Schlemme said. "Renewal Mill's second ingredient is an oatmilk flour made from the leftovers of oatmilk production. Using these upcycled flours as a base, we worked with Alice Medrich, a five-time James Beard Award–winning chef known for her expertise in alternative flours, to craft our 'just add oil and water' baking mixes. Our goal is to make upcycled food choices fun, easy, and tasty!"
Renewal Mill has implemented the same drying and milling process to repurpose pea, oat and almond byproducts from milk-alternatives production. In their research and development kitchen, they've also worked with carrot pulp and vanilla bean pulp. Schlemme and Cotto believe the method they created can be used to transform many of the billions of pounds of food waste produced each year by the food industry. They're currently evaluating the byproducts left over from cold-pressed oil processing as well as fruit and vegetable pomaces that accumulate from wine making and potato processing.
Schlemme and Cotto are founding members of the Upcycled Food Association, and Cotto currently serves as the organization's board president. Throughout the life of their business, the two have been enthusiastic about having Renewal Mill products featured on our shelves.
"Having Whole Foods Market name Upcycled Foods as a Top 10 Food Trend for 2021 was a huge win for the upcycled food community at large and, through the nod to Renewal Mill specifically, also gave us the stamp of approval we need to bring this novel concept into mainstream America's consciousness," Schlemme said. "Whole Foods Market is a key relationship helping Renewal Mill tell the story of upcycled food and the unique aspects of our ingredients and products, which we know matter more than ever to today's consumers."
Watch for Renewal Mill's Dark Chocolate Brownie Mix hitting our shelves this summer. You can also find its flour inside five other brands' products, including Pulp Pantry's grain-free chips and Tia Lupita's tortillas.
"The name Renewal Mill comes from the idea of renewal and the hope that we can build a better future through a better food system," Cotto said. "Our unique upcycled flours come from finding value in the overlooked and seeing potential where others may see none. Our baking mix products represent our philosophy that doing good for the planet can and should be, first and foremost, delicious."
Named a World Changing Idea by Fast Company in 2019, Renewal Mill is passionate about its mission to fight climate change and global food loss through upcycling.. The founders believe transformation can happen one delicious bite at a time. Brownies, anyone?
The Source Itself: Pacha Soap Co. and Whole Foods Market
Whole Foods Team Members In The Field
Supplier Spotlight: Greenbar Distillery
Serving up Spirits with real-food flavors
When Litty Mathew and Melkon Khosrovian got engaged in 2002, it was the beginning of a beautiful partnership in more ways than one.
Khosrovian's Armenian family, which has more than sixty members, celebrated the couple through a series of elaborate dinner parties. According to custom, toasts were given throughout the meal, each one followed by a shot of high-proof fruit brandy or Eastern European vodka. There was just one problem: Mathew hated the liquors and skipped the tradition, which was considered impolite.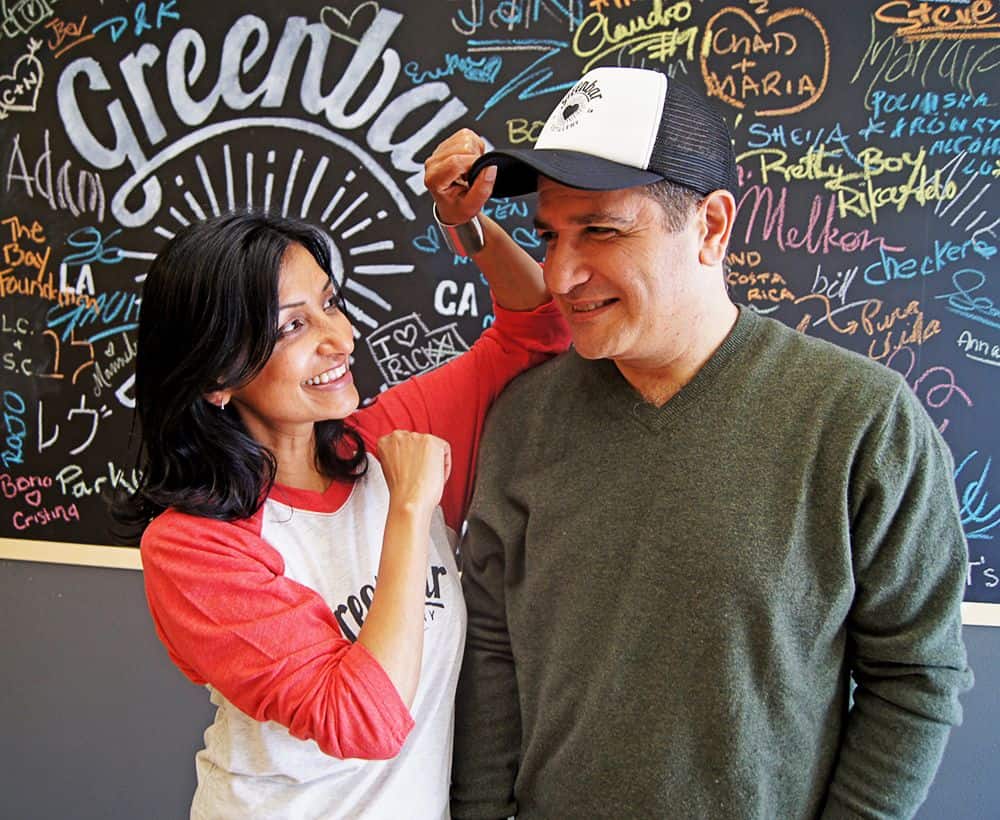 Khosrovian had an idea. He roamed the Hollywood Farmers Market, buying anything with a beautiful aroma and flavor — grapefruit, thyme, lavender, kumquats, etc. — using the fruits and herbs to infuse spirits with the flavors of actual food. Mathew attended Le Cordon Bleu cooking school in Paris, so Khosrovian worked to create blends that were both delicious and sophisticated. He knew he'd succeeded when Mathew joined the family toasts, but what he hadn't expected was that his cousins would start swiping bottles.
"The home infusions that I was making for a client base of one — Litty — resonated with everyone who tried them," Khosrovian said. "At that time, there was genuine interest in hand-crafted, maker-related products, whether it was cheese, chocolate, bread or spirits. People were over mass-produced items, especially food."
Soon, friends of his family called the couple to ask for bottles of their own, and before long, Mathew and Khosrovian were getting calls from strangers, too. The infusion process took up more and more of the couple's time after work that they had to either quit the venture or go into the spirits business.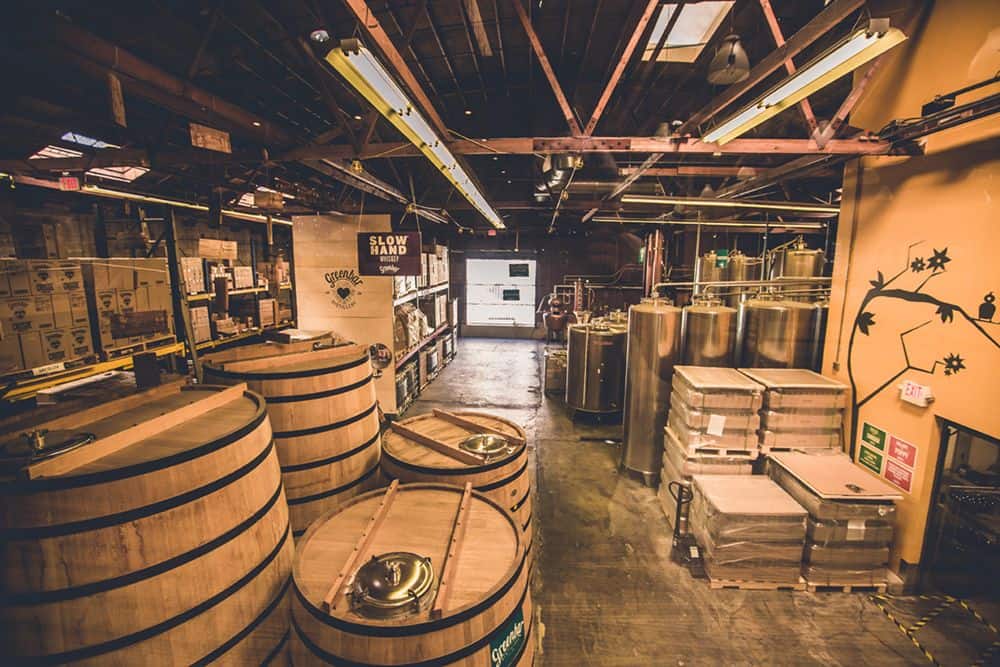 In 2004, Mathew and Khosrovian secured a facility in Monrovia, California. They did everything themselves: making batches, bottling and driving around to sell product. They learned how to distill their own vodka through trial and error, chalking the many mistakes they made along the way (spilling their very first batch and ordering the wrong machine) as learning experiences.
"For us, the guiding light is taste," Mathew said. "If it doesn't taste good, we start again."
As the company scaled, the couple committed to maintaining seasonal flavors, but their products were not yet organic. That all changed one day in 2008, when they made a batch of chocolate orange vodka (no longer available) that tasted "orange-ier." It turned out that their supplier had included some organic fruit in their usual delivery. Impressed with the difference in flavor, Mathew and Khosrovian decided to include organic ingredients moving forward. In 2009, they branched out to make liqueurs and rums in addition to vodkas. Seeking a new name for the brand that embraced everything it had become, they finally settled on Greenbar Distillery.
Mathew and Khosrovian wanted to do more. "In Armenia, we plant a tree whenever a child is born, so we thought it would be the right gesture to plant a tree for every bottle sold," Khosrovian said. "To give back, not just take. Over the years, it's added up to almost 900,000 trees."
To reduce packaging, the company moved away from the heavy glass bottles typical in the industry. The brand also continues to experiment and innovate with its flavors and production methods, borrowing techniques from the California wine industry and cutting-edge engineering technology.
Greenbar Distillery moved to the Los Angeles Arts District and was the first distillery to set up shop downtown since Prohibition. Today, it makes a wide variety of spirits, including vodkas, rums, tequilas, whiskeys, liqueurs, gins, amari and bitters, and has launched a line of canned mixed cocktails (like Gin + Tonic and Rum + Cola) that perform well in our stores. Mathew and Khosrovian credit some of their success to having a presence on our shelves.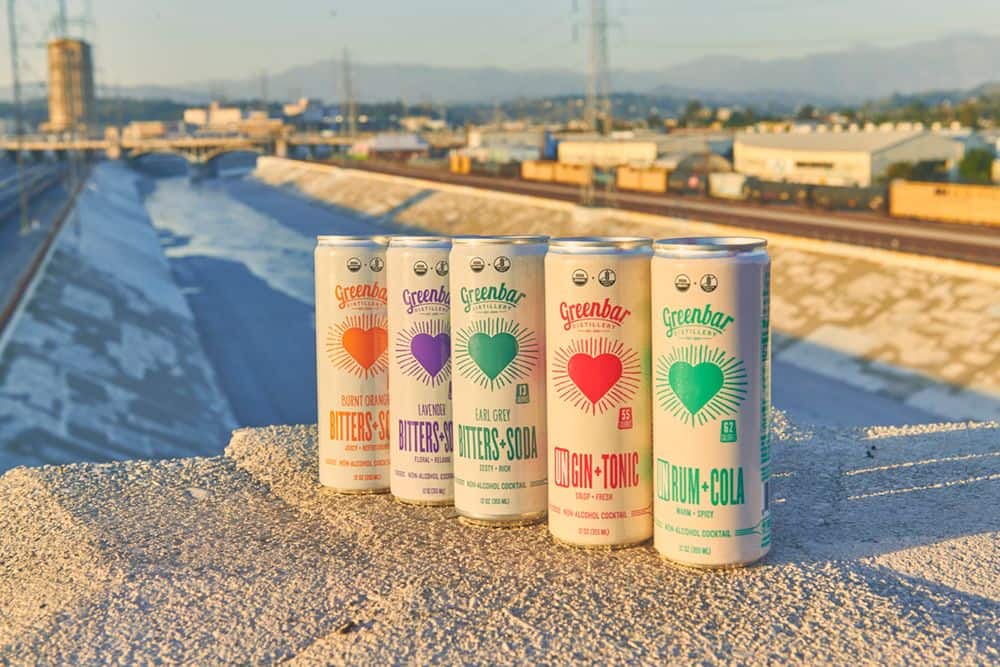 "Our relationship with Whole Foods Market began in 2012, when our Local Forager at the time, Kimberly Albright [currently Whole Body Team Leader at our Torrance, California, store], attended a party we hosted," Mathew said. "She loved our take on ingredients and our practices and thought we were potentially a good fit. We are so grateful that she saw the value that Greenbar Distillery brings to customers and that Whole Foods Market helped introduce it to more people."
What's Next?