In 2007 we launched Whole Trade Guarantee – a certification program dedicated to empowering farmworkers, building community, and fostering environmental stewardship. In the years since then, we've raised millions of dollars to empower thousands of farmworkers and their families, all around the globe. Therefore we are continuing to build on that with the launch of our new Sourced For Good program. In collaboration with farms, suppliers, and international third-party certifiers, we're helping to provide things like improved wages, working conditions, access to healthcare, housing, and more. See for yourself how Sourced For Good is helping to support communities around the world where we source our products!
---
What is Sourced For Good?
Whole Story: Who are you and what do you do?
Karen Christensen: I am Karen Christensen. I am Senior Vice President of Perishables and Supply Chain Quality Assurance.
WS: How did you come to be in your current role?
KC: I started at Whole Foods Market all the way back in 1998, in Northern California as a distribution center produce buyer. From there I worked through a number of different roles: Global Produce Buyer, Regional Produce Coordinator, Global Produce Coordinator, Nor Cal as Regional Vice President, and finally back to Global as Senior Vice President of Perishables.
WS: What is Sourced for Good?
KC: Sourced for Good is the expanded and rebranded Whole Trade Guarantee program, which we've had in place since about 2007 We started this program to proactively engage with certifiers who were helping to address environmental and worker welfare concerns, specifically in the global South. Then much more recently in 2020, we expanded the program for the opportunity to be used anywhere in the world where our products are sourced. The Whole Trade Guarantee, now rebranded as Sourced for Good, has always been based in making a positive contribution through the way that we source our products. So, we have some program tenets and those are; first, that eligible products have to meet Whole Foods Market quality standards and specifications. Number two, the program has to demonstrate a measurable, positive impact on workers in the supply chain, on communities, or environmental stewardship. Third, the application of the Sourced for Good seal has to align with our Whole Foods Market brand tenets.
KC: Eligible products for SFG are produced by a committed supplier with a strong relationship to the Whole Foods Market merchant team, which means that we have a direct relationship with the supplier and are committed to sharing information about the conditions that the product is being produced in. Lastly, Sourced for Good products are third-party certified by a Whole Foods Market-approved certification partner. So we don't certify it. We ask an independent certifier to do verify that the products do contribute to workers, communities or environmental stewardship.
WS: Why is it a prerequisite for the supplier to have such a deep relationship with your team?
KC: From the very beginning of this program, we've always felt that it is very important that we want to be absolutely certain that anything that we represent underneath this seal has been verified to meet our tenets and our requirements for the program. Because this is very close to our hearts, we want to be sure that it is carrying the attributes we talk about.
KC: There are three certification partners that have been in place since the inception of the Whole Trade Guarantee program back in 2007 Fair Trade USA, Fair Trade International, and the Rainforest Alliance. back in 2019, we added the Fair Food Project and the Equitable Food Initiative. Recently we've added Regenerative Organic Certified. Fair Food Project is based in the Southeast of the US and the Equitable Food Initiative is based on the West Coast.
WS: What were some of the foundational realities of the global food system that inspired the creation of this program?
KC: number one, agriculture has a tremendous impact on the environment. So, looking to contribute towards environmental stewardship would be one. And then, number two, worker health and safety. Those two issues translate to everywhere in the world that food is produced.
WS: In what ways specifically can the global food system be especially hard on farm workers and their families?
KC: There is less protection for human rights under the law, compared to other industries, for people who work on farms. I think that is number one. Number two, very often, workers in this industry can come from economically disadvantaged or migrant communities. So, I think those two things combined can make the situation particularly more difficult for farm workers and their families.
WS: Why did Whole Foods go through more than a decade of work developing and expanding this program, carefully selecting certifiers, becoming intimately connected with all these different participants in the program? Why go through all that trouble to bring those products to the store?
KC: It's a great question, I think, why not? Whole Foods Market's purpose is to nourish people and the planet. In my mind, this aligns perfectly with our purpose. We have an opportunity through our business to spread some goodness in the world and we should.
WS: Why should customers look for the Sourced for Good label in the store? Why should they support the program by buying those products?
KC: I would say the products that carry the Sourced for Good label have been third-party certified to be making a positive impact on the communities or workers where they are produced. I am confident these products are contributing to a positive impact.
WS: What are your hopes for the future development of the global food system? How would you like to see it change and evolve?
KC: I think first, greater transparency and traceability. It should not be hard to understand exactly where your food comes from and how it was produced. Second, I'd like it to be commonly understood that the environment, growers, producers, workers, are all critical stakeholders, and each deserve nourishment and respect. I guess my editorial is that this is necessary if we want humanity to prosper.
WS: What do you love most about your job? What keeps you engaged and excited?
KC: This is the reason that I work. It is the opportunity to do work like this that can make a positive impact in the world. I feel incredibly blessed to work with a group of people who feel the same; who are getting up every day, going to work because we're trying to do something positive together.
WS: Did you ever think, at that first job in 1998, that someday you would be kind of pushing on the entire food system?
KC: I did. That was my goal, from the beginning. I think my very first Whole Foods Market interview, what I said was, "This is such an amazing opportunity to be standing up a supermarket chain that will bring organic food to everybody in the country". From the beginning, that has been my motivation. And then as I have grown over time, that's led me to other issues in addition to organic, such as everything that we talked about here today.
---
Behind the Scenes: Sourced For Good
Sourced For Good Supplier Map
Some Examples of Sourced For Good Products, and Community Benefits They Provide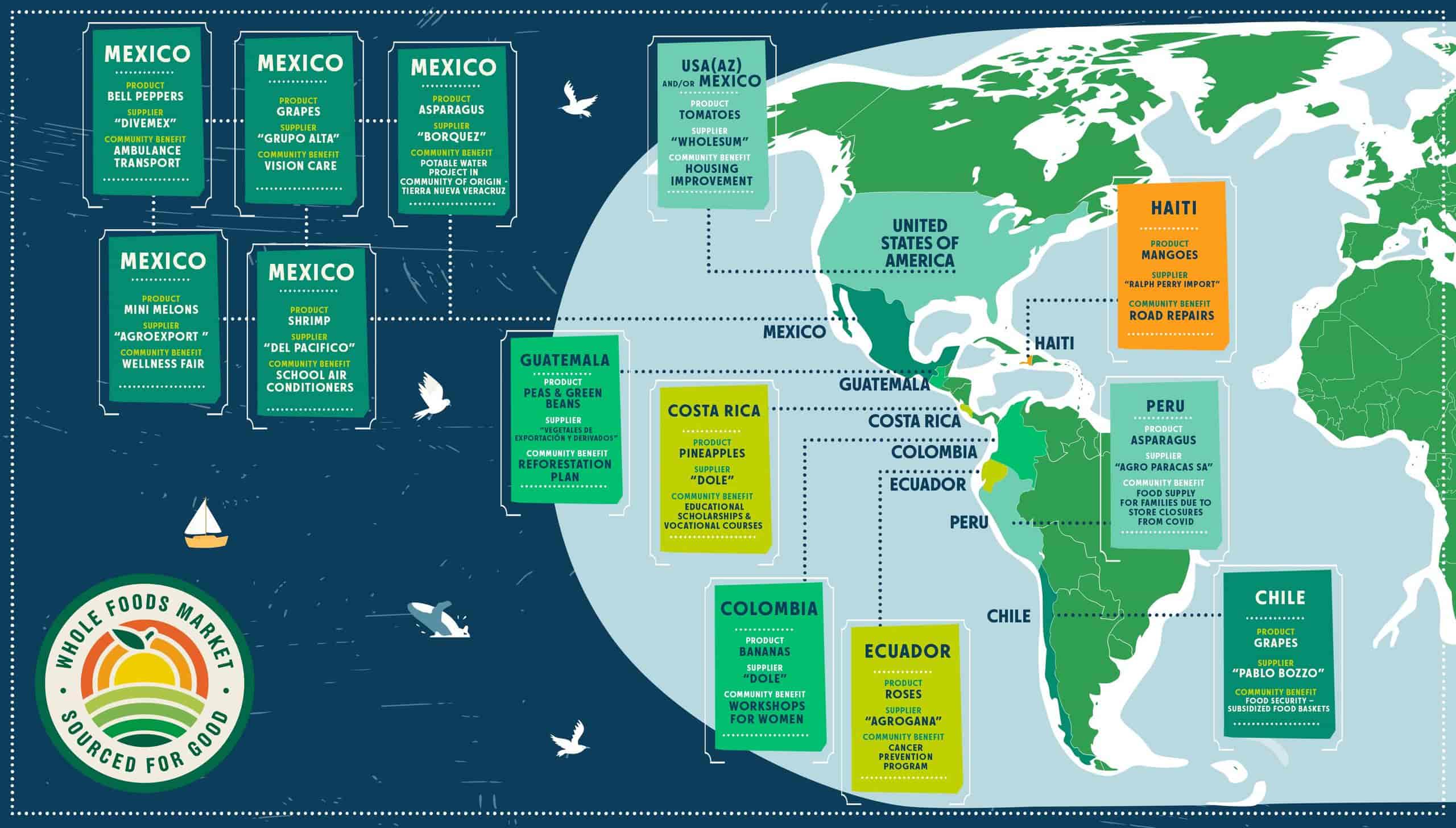 Some of our Favorite Sourced For Good Suppliers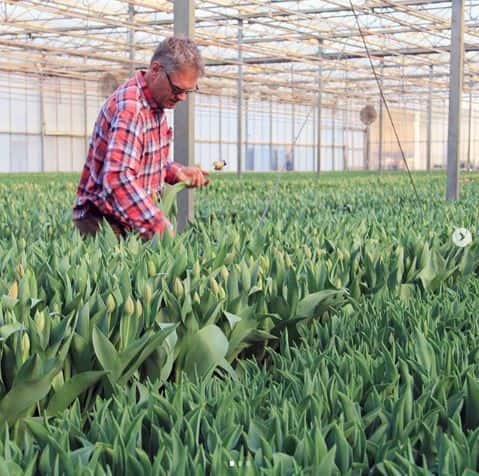 From Footsteps to the Forefront
Whole Foods Market's long-standing partnership with Fair Trade USA fights food injustice and leads higher sourcing standards
By: Kasi Martin, Head of PR, Fair Trade USA
When Whole Foods Market partnered with Fair Trade USA in 2007 to launch its Whole Trade Guarantee, the idea of responsible sourcing was just emerging. At that time, only one in four U.S. shoppers were familiar with fair trade products, yet Epicurious predicted that fair trade would "follow in the footsteps of organic" as a trusted name in food.
Today, 63 percent of U.S shoppers recognize the Fair Trade Certified™ seal on products and one in three are willing to pay more for them.
What started with one retailer always in pursuit of higher standards and a non-profit uniquely equipped to support farmers and fishers across the globe, resulted in a relationship that now stands at the forefront of the food-sourcing movement.
After 14 years of working with Fair Trade USA, Whole Foods Market has delivered more than $46 million in financial benefit to produce and floral farmworkers. And more recently, with the grocer's launch of Fair Trade Certified seafood in 2017, it has delivered more than $222 thousand to fishers.
From the outset, fair trade was a foundational component of the Whole Trade Guarantee and it continues to be instrumental as Whole Foods Market introduces the next iteration of its sourcing program, recently reintroduced as Sourced for Good. But this begs an important question: why expand the program?
According to a Harris Poll, 75 percent of Americans say responsible sourcing is important when grocery shopping, but 65 percent are still confused about how to determine whether a product is responsibly sourced. Whole Foods Market strengthened its program to focus on tangible improvements to workers, communities, and environments and clearly label select products with the Sourced for Good seal.
After more than 20 years creating global impact, 79 percent of conscious consumers trust the Fair Trade Certified seal. This is why it's a vital and respected part of a responsible sourcing strategy today. Especially for those concerned about the people producing their food.
Fair Trade USA is the leading fair trade certifier in the U.S, including more than 700 rigorous social, environmental, and economic protections, and helping to ensure farmers receive fair pay. Furthermore, for every Fair Trade Certified product sold, the workers or small producers behind the product earn additional money that goes into a Community Development Fund. From there, workers determine how to spend their funds to improve their lives and invest in development projects in healthcare, education, women's leadership, disaster readiness and relief, and more.
Enabling resiliency within farming communities
Take for instance the project at Divemex, a North American pepper grower, where workers voted to use their funds for ambulances. Many Divemex farmworkers in Mexico are migrant workers and the nearest hospital can be an hour or more away. Realizing they needed better access to urgent medical care, the workers elected to utilize their Fair Trade Community Development Funds generated by partners like Whole Foods Market to buy two ambulances to serve their communities in regions around Culiacán. After seeing their initial success, workers in Mecayapan bought an ambulance for their community in 2018. Both communities now have reliable transportation to medical facilities, which has proved essential during the pandemic.
Although Divemex is a model of modern farming — with comprehensive worker benefits packages, scholarship program, and organic certification — this is not always the case throughout the industry. Forced labor, harsh working conditions, wage theft, and sub-standard housing are widely documented across the agricultural sector. In particular, child labor can persist if regulations and standards aren't actively enforced and products aren't stringently traced.
The Fair Trade Standard not only addresses these issues by prohibiting labor abuses and providing clear employment conditions and grievance procedures, but also goes further by addressing their root causes. Child labor and poverty often arise when a community lacks access to education, health and human services, and basic needs. So, while Divemex's ambulances may seem like a simple improvement, they are one of many fair trade projects that symbolize the power and resiliency of farming communities when they're treated with the respect and dignity they deserve.
Charting a new course at sea
Another reason Whole Foods Market partners with Fair Trade USA is for its depth and breadth of knowledge across commodities and supply chains. The issues at sea, for instance, can manifest differently from those on land.
For example, fishers in remote locations can become reliant on middlemen charging high interest rates, driving them deeper into debt. When this happens, they often struggle to purchase fuel and boat parts or provide for their families.
Moreover, with consumers now weighing sustainability ahead of price when buying seafood, issues like poor stock health, habitat damage, illegal fishing, lack of product traceability, and climate change are also pressing matters in both wild and farmed seafood. Whole Foods Market has seafood-sourcing standards that address these issues, and Fair Trade USA also tackles some of them.
The Fair Trade Standard requires that thirty percent of fishers' Community Development Funds be dedicated to environmental projects, helping to ensure their continued sustainability. Through Del Pacifico Seafoods, shrimp fishers in Sinaloa, Mexico have led mangrove restoration projects, funded training on sustainability practices and restocking, and held community clean-ups.
The funds also helped their independent fishers maintain their boats and meet other immediate needs, freeing them up to focus on their businesses. And because Del Pacifico is set up as a cooperative, the funds support 14 fishing enterprises and more than 1,100 independent fishers. But according to Blake Stok, Senior Manager for Seafood at Fair Trade USA, the greatest impact to fishers is undoubtedly delivered through the implementation of the standard, which helps ensure safer and dignified working conditions, legal recruitment practices, worker engagement, and full supply chain transparency.
Del Pacifico's Fair Trade Certified shrimp was the first seafood product to be included in the Whole Foods Market Sourced for Good program.
Looking ahead, as the world's reliance on seafood as a source of protein grows, Whole Foods Market's efforts to address seafood-worker conditions will also extend into farmed fish. Later this year, Pacifico Aquaculture's open-ocean raised bass will be the first Sourced for Good farmed finned fish. Pacifico's first-ever commercial striped bass hatchery in the world is headquartered in Ensenada, Baja California. The fish farm is Fair Trade Certified, supporting workers at its open-ocean site and inside its processing facilities.
Progressive relationships fill the gap
What is evident in these impact stories and a change in consumer sentiment, is that sustainability and ethics are both meaningful and firmly planted in the public consciousness. However, until those practices are mandatory, it is up to progressive companies to work with other organizations to address social injustice, resource shortages, and climate crisis. For now, consumers can turn to Whole Foods Market for a high level of accountability and businesses can turn to Fair Trade USA as a trusted social standard on the market.
Learn more at www.fairtradecertified.org
Kasi Martin is the head of public relations at Fair Trade USA. She is an advocate for progressive social change and the fight against injustice. You can also find her writing about garment workers and ethics in the apparel sector on thepeahen.com.
What's Next?