Celebrating 10 Years of Growing Healthy Kids
Our friends at Whole Kids Foundation have been working tirelessly to change the way kids eat and think about food, and school gardens and salad bars have always been at the heart of that mission. School gardens spark curiosity, autonomy, pride, and a connection to the earth in kids, and school salad bars offer students the power of choice and teach healthy eating habits that can last a lifetime. And now there's mounting research showing that kids who have access to both consume greater amounts of fruits and veggies! With over 6,000 salad bars and 7,000 garden grants to date, Whole Kids Foundation is helping more kids than ever connect to nature and food.
As the mission of Whole Kids Foundation expands, so do the burgeoning local and national networks created to support it, sustain it, and make it stronger than ever. The path to health can start with one seed, one salad, and of course, one curious kid. And a supportive community of people like you. Read on and join the growing movement.
"If you can help kids understand where food comes from, and how it affects their person, then you spark their curiosity."
Nona Evans, Executive Director, Whole Kids Foundation
Eat Your Greens!
These tasty recipes will get your family eating healthy in no time!
Let kids help with the simple steps in bold!
INGREDIENTS
• 2 cups cooked brown rice (or other cooked grain)
• 1/4 cup of your favorite salad dressing (or lemon juice)
• 2 cups packed fresh salad greens (spinach or arugula work well)
• 1/2 cup chopped red onion
• 1/4 cup fresh cherries
• 1/4 cup roughly chopped toasted pecans
• 2 tablespoons blue cheese crumbles
INSTRUCTIONS
Step 1: In a small bowl, combine grains with dressing and stir well.
Step 2: Layer dressed grains and remaining ingredients in two wide mouth jars (approximately pint sized).
Step 3: Top with tight-fitting lids and keep chilled until ready to serve. Use a fork to mix and eat it straight from the jar. Great for the lunchbox!
Learn how to color your plate with cherries.
Let kids help with the simple steps in bold!
INGREDIENTS
• 3 red potatoes, scrubbed and diced
• 4 chopped fresh sage leaves or 1 teaspoon dried sage
• medium red onion, diced
• 4 cloves garlic, minced
• fresh chives or parsley for garnish
• 16 ounces mushrooms, any variety
INSTRUCTIONS
Preheat oven to 375 degrees F.
Step 1: Place potatoes on a large, rimmed baking sheet and roast approx. 30 minutes until barely golden, turning them halfway through cooking (add a little water to the pan to prevent sticking if necessary).
Step 2: Meanwhile, heat a large skillet over high heat. Cook onions and mushrooms, stirring occasionally, until golden brown, approx. 10 minutes.
Step 3: Add cooked potatoes, garlic and sage to the pan. Use a spoon to scrape up any bits of onion or mushrooms that stick to the bottom of the pan, adding a small amount of water if necessary to prevent sticking. Cook just until potatoes begin to brown on the edges.
Step 4: Garnish with chopped fresh chives or parsley.
Toss this easy mix together for a healthy lunch. Let kids help with the simple steps in bold!
INGREDIENTS
• 1 bunch fresh baby spinach leaves, rinsed and dried
• 2 mandarin oranges, peeled and segmented
• 1⁄4 cup slivered or chopped almonds or walnuts
• 1⁄4 cup red onion, finely chopped (optional)
• 2 tablespoons orange juice
• 1 tablespoon red wine vinegar
• 1 tablespoon olive oil salt and pepper to taste
INSTRUCTIONS
Step 1: Whisk together orange juice, vinegar, olive oil and onion.
Step 2: Just before serving, gently toss the dressing with the spinach, oranges and nuts.
Step 3: Add salt and pepper to taste.
Tip: In the lunchbox, pack dressing portion separately and mix when eating to prevent wilted spinach.
Growing Healthy Partnerships
By: Nona Evans
Executive Director, Whole Kids Foundation
Whole Kids Foundation was born of Whole Foods Market culture and core values. It's natural that we first looked carefully at what we know — food and its role in our health. And found expert partners in areas that were less familiar to us.
Today, Whole Kids Foundation prides ourselves on the hundreds of deep relationships we have with partners in every corner of the countries we serve.
Here are just a few of the superheroes and super organizations who make our work possible.
Chef Ann Foundation
Before there was a Whole Kids Foundation, Renegade Lunch Lady Chef Ann partnered with Whole Foods Market to help educate our Team Members and shoppers about the importance of school food. Together, we grew our work to include providing more than 6,000 salad bars to schools along with essential training and skills for implementation. We've also developed the Get School Cooking Grant to support small- to medium-sized school districts who want to move from processed food to scratch cooking. Chef Ann is still active in our partnership and is now supported by a team of dedicated school food champions. Discover the School Food Advocacy Toolkit we co-created to help parents and community members understand how to work with their district to improve the nutrition of school meals.
School Garden Support Organization
When we started providing support to school gardens, we knew that funding was a key to success. After just a few years, we learned PEOPLE are the other ingredient needed to sustain a garden and integrate it fully into the learning environment. We are proud to have collaborated to create the School Garden Support Organization (SGSO) – which today facilitates dialogue and sharing among 400 school garden coordinators that support more than 10,000 school gardens. The group is lead by a Whole Kids Foundation alumni, Tristana Pirkl, who organizes regular webinars, share sites and coordinates an annual gathering. SGSO has created a site where any school can access resources to make their garden more effective, efficient and fun.
The Bee Cause Project
When you have a garden, there will be honeybees! In partnership with The Bee Cause Project, led by co-founder and beekeeper Tami Enright, we offer free educational materials that enable any school to teach their student community about the importance of pollinators. After all, pollinators are responsible for one in three bites of food we eat. We have also supported more than 600 schools with grants to host honey bee hives. If you're just curious about the wonderful world of honey bees – discover our family centric content, or check out this video!
Green Bronx Machine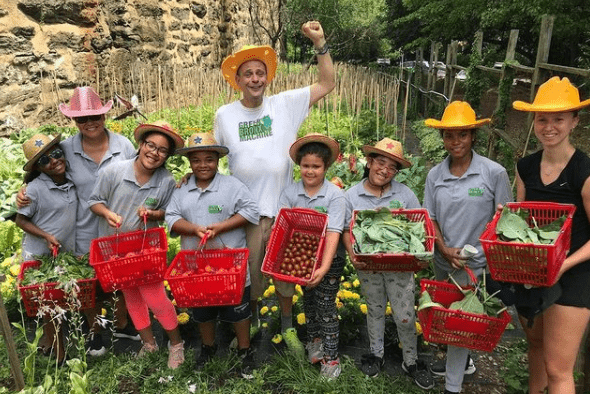 Stephen Ritz is a South Bronx educator who believes that students should not have to leave their community to live, learn, and earn in a better one. As founder of Green Bronx Machine, Stephen has taught generations of students how to grow healthy, nutritious food anywhere including in hydroponic tower gardens. By transforming an empty library on the fourth floor of a 110-year old Bronx school building in the poorest congressional district in the U.S. into a thriving edible classroom, Stephen and the team at GBM have changed the definition of what is possible — even during a pandemic. Read more about our partnership and watch Stephen's recent testimony before the House Committee.
Roots for the Home Team
70% of students in middle and high school want to start their own business. Roots for the Home Team founder, Sue Moores, believes that entrepreneurial aspirations and collective youth energy should be tapped today to help future leaders achieve their goals. The nonprofit employs teens from garden-based educational programs around Minneapolis and St. Paul to hone their leadership skills by developing recipes and making and selling salads that feature produce from their gardens. Their creations are then sold to patrons at Major League Ball parks. Read more about our collaboration here.
Kids Love Gardens!
Why School Gardens?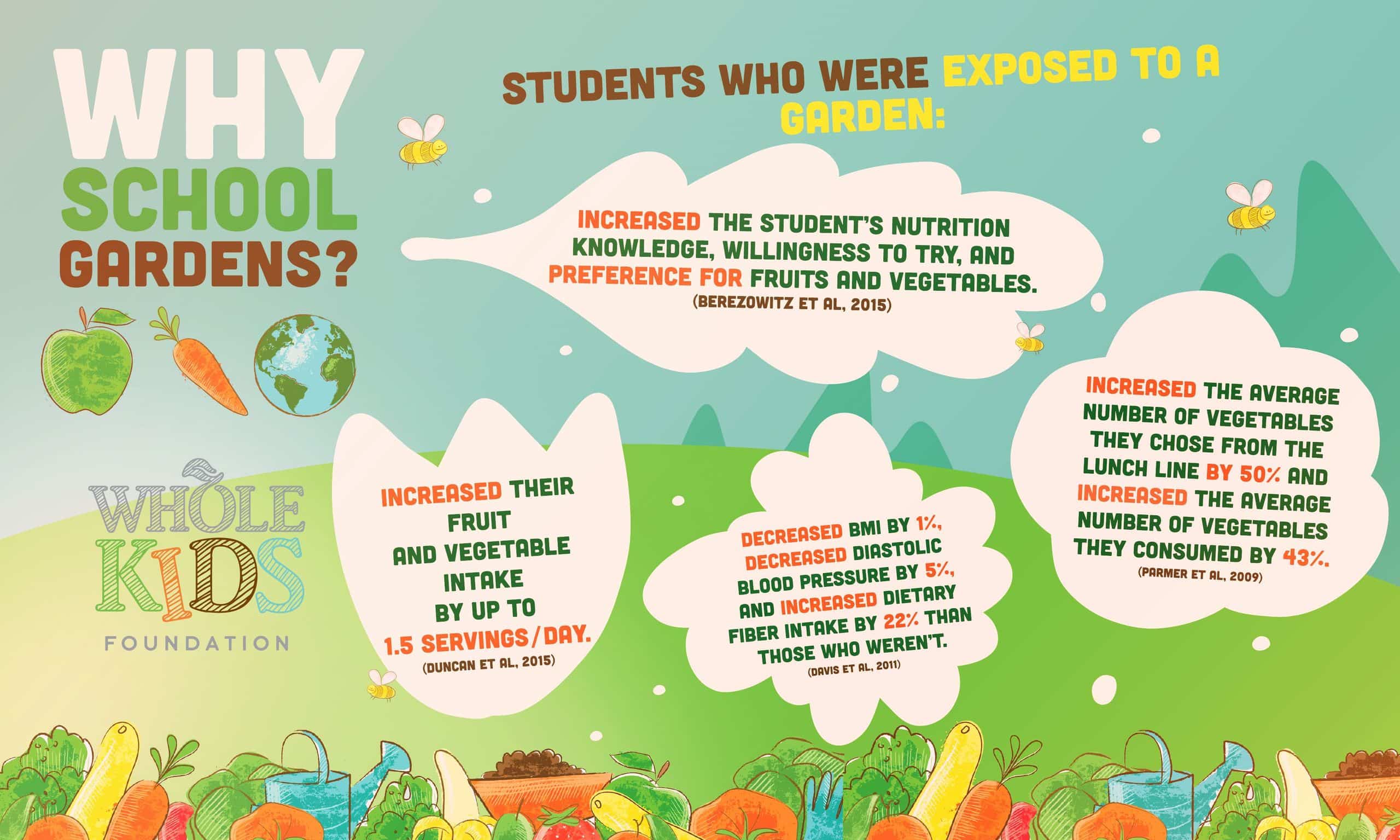 What's Next?